Grandstand offers a unique solution for getting your event schedules into our platform. We now offer the ability to import data from any public Google Calendar on-demand. Here's how it works:
Step 1: Make sure your calendar is public on Google
Step 2: On your Google Calendar Settings find the "Public URL to this Calendar" and collect the code between "src=" and "&ctz=". Send this code to your Grandstand representative with the name of the Grandstand Admin Calendar Group and default "Category" to add all imported events to.
Step 3: Once your Grandstand representative has validated this setup a button will be added to your Event page that says 'Fetch Google Calendar Events'. Each time you press this button Grandstand will refetch all events from a period of 60-days back to 500 days in the future (with a limit of 500 total events imported). Any events imported from Google Calendar in the past will be replaced.
Step 4: Don't forget to hit Update Events in App after doing the Fetch.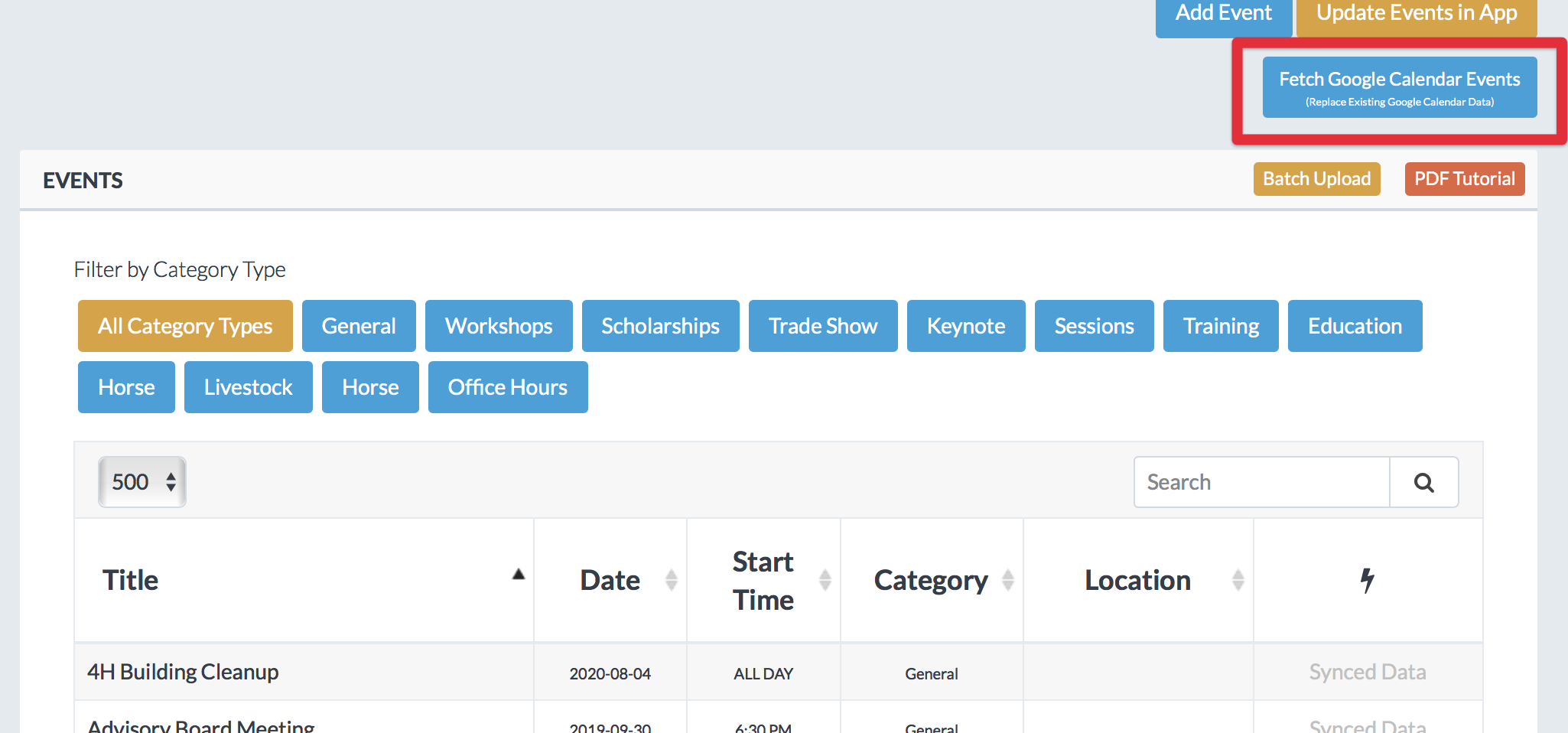 Here are some additional notes about how this import works:
Because Google Calendar events are replaced each time we don't allow any editing of these entries. Those events are marked as 'Synced Data' in Grandstand Admin on the Events page.
You can add additional items to supplement your Google Calendar entries in Grandstand Admin and those will not be replaced when you fetch new Google Calendar events.
If you make a change to your Google Calendar that will not be reflected in the Admin or your App until you hit 'Fetch Google Calendar Events' again.
Your Google Calendar must be public for any importing to happen.
Events that are All Day in Google Calendar will also be imported as ALL DAY in Grandstand.
Events will be imported in in the Timezone you have setup on your Dashboard.
Descriptions will also be imported so any details you have entered publicly on Google Calendar will show up in your Event Detail in the app.
Multi-day events will be setup as a recurring daily event in Grandstand.
Refrain from linking lists to events that have been imported as the ID for each event will change each time it is reimported.
Because Location data can vary widely in Google Calendar setup we do our best to recognize valid addresses. If a valid address is included we will add a button on the event detail page in your app to 'VIEW ON MAP'.
You can continue to offer favoriting in your app on any imported Google Calendar events. We use the unique Google ID associated with each event as the event id in Grandstand. This means that even when fetching new results, the ID associated with that event will remain the same.
We are working on additional features for our Google Calendar integration and would love to hear your ideas for how to improve this valuable tool!